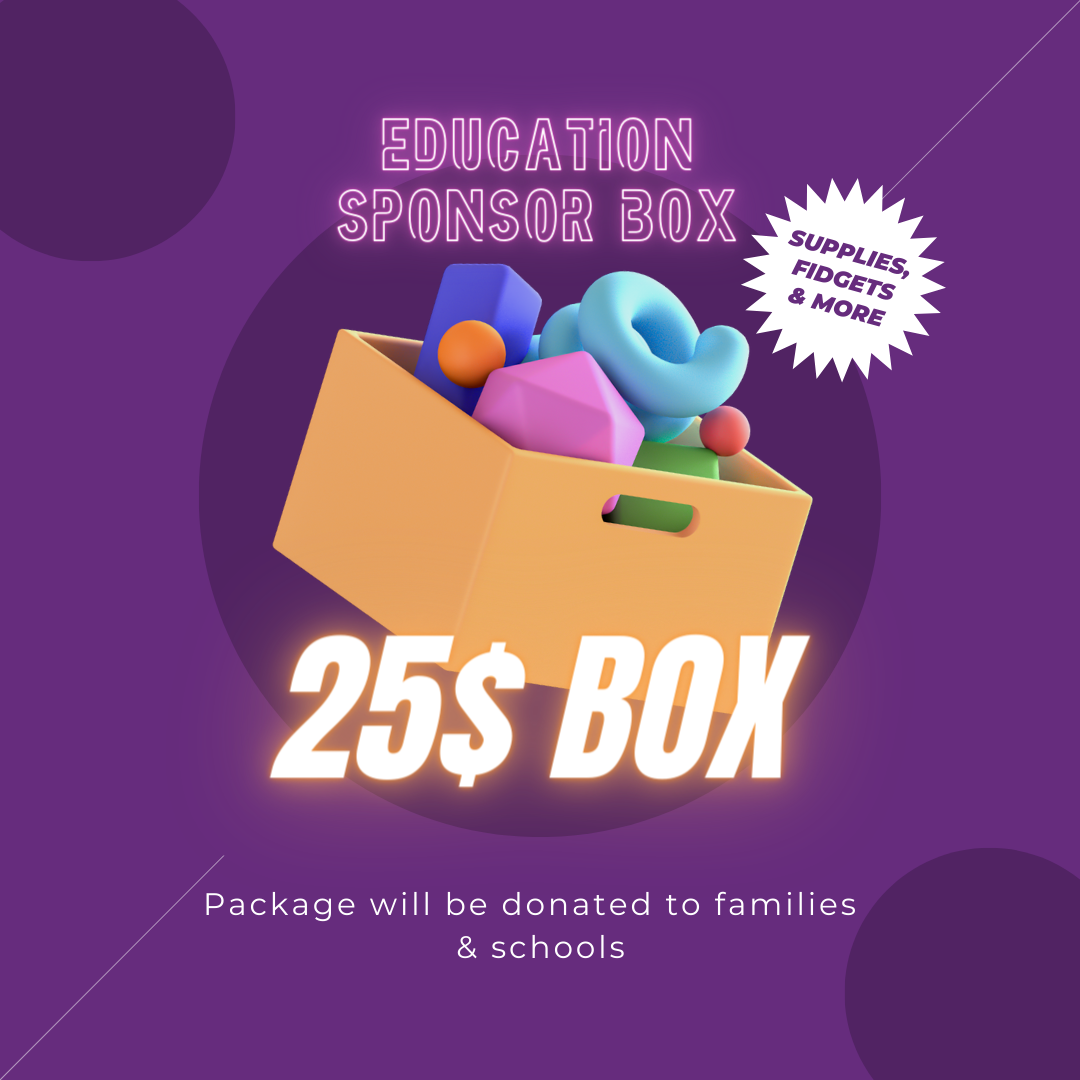 25$ Education Sponsor Box
--Education Sponsor Box - $25--

Our Education Sponsor Box is specially curated to cater to the unique needs of autistic students in schools. Every penny goes into procuring quality supplies to aid their learning experience and provide therapeutic benefits. Here's what's inside:

1. --School Supplies--:
-   Notebook: A sturdy spiral-bound notebook for jotting down thoughts, lessons, or drawings.
-   Set of Pencils: Pre-sharpened and ready for note-taking or sketching.
-   Pencil Grips: Ergonomically designed to aid those with grip challenges, making writing easier and more comfortable.
-   Erasers: Small, easy-to-use erasers for correcting mistakes.
-   Ruler: A 12-inch plastic ruler, durable and easy to read.

2. --Fidget Toys--:
-   Silicone Pop-It Toy: A trendy and therapeutic sensory toy that offers both tactile and auditory feedback.
-   Fidget Spinner: A classic that helps improve concentration and provides a calming effect.
-   Stress Ball: A squishy and soft ball that aids in relaxation and hand strengthening.

3. --Art Supplies--:
-   Crayons: A pack of vibrant colors, non-toxic and safe.
-   Colored Pencils: A small set perfect for detailed coloring or sketching.
-   Sketchpad: A compact pad with quality paper for doodling, drawing, or creative expressions.

4. --Informational Leaflet--:
- A brief note on understanding autism and the importance of inclusion in schools, along with some tips for peers and teachers to foster a supportive environment.

The contents of the box are not just tools, but a message of understanding, support, and hope. By sponsoring this box, you're directly aiding the educational journey of autistic students and showing them that their community cares.

---
25$ Education Sponsor Box